And these are the lessons I learned on my first cruise:
Forget the worries and enjoy the cruise
Many people told me that the cruise was a bad experience (it's curious, because most of those who made this statement had not yet tried it). And I was overwhelmed by the thought of whether it was the right decision or not. What if it was really boring? Will we get dizzy? Will the kids fall overboard? Will it eat well? I was obsessed with a thousand and one questions before I set sail.
But we finally loved it. It fascinated us. The 5 nights and 6 days on the cruise ship flew by. Everything was like silk. No dizziness, nothing. The security is total (there are thousands of measures to avoid mishaps). The service on the cruise ship is very attentive and, at all times, they are waiting for you to be comfortable, happy, healthy, pampered and entertained.
Cruise ships are not for retirees. It's for practical people
It's all been so easy. I had never had to plan so little, to say the least. No flights, no transfers. No hotels, no restaurants, no activities. I didn't have to carry my luggage. They did everything for us. All we had to do was stand in front of the information desk and decide how we wanted to spend our time.
There were thousands of options. That's why I'm not surprised that seniors love cruises. They can do as much or as little as they want. So for us it was perfect, it fitted us like a ring to the finger, since they made our lives easier, and that's what we were looking for: facilities.
Balcony cabins are the best choice
The truth is that we spend a lot of extra money booking a cabin with a balcony, and I highly recommend it. Our balcony was our salvation at the end of the day, since the children fell asleep; and it was also an escape valve at noon, when I wanted a little reading; and of course the views were extraordinary: watching the sunrise and sunset was a privilege.
Getting an upgrade (improvement of the cabin) can be decisive in the trip. It is worth trying to attract as many improvements as possible. The Travelzoo offer we selected was for Celebrity Concierge.
The quality of the experience increased considerably: less time for check-in and check-out (here we saved about an hour), the bath products were of better quality, we had a bottle of champagne on arrival and fresh fruit and canapés were delivered to our cabin daily.
The cruise is familiar or basically for adults
Our cruise ship was full of families. They were very punctual dates of spring. After several conversations, I found out that this fact caught many cruisers unprepared. They couldn't have imagined it.
They were used to other types of cruises at other times of the year, where there are hardly any children. A good example is the transatlantic cruises: there are usually no children in sight. But, of course, a 5-night cruise during Easter, yes, the ship was loaded with children of all ages.
So you have to take into account these details when booking a cruise: dates, destinations and itinerary. The big advantage for families is the routine of the cruise. It is very difficult to have setbacks on board. My children every day greeted all the crew members, who were always available in their positions.
They slept in the same bed every day, which had no loss, dined at the same table at the same time with the same families, and knowing that they would have their dessert and their show after dinner. It was systematic. It was repeated without ceasing. It was a very pleasant sense of security.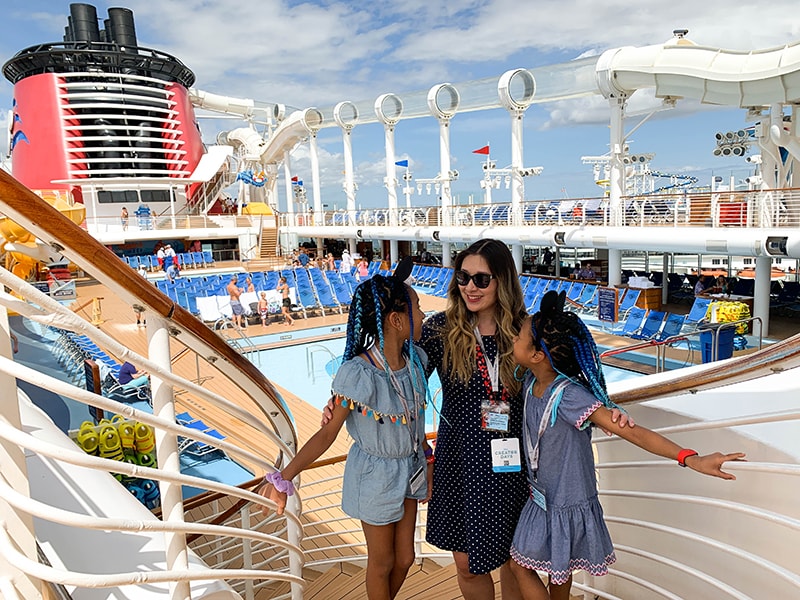 Attention passengers, travel on cruise hook
I'm serious. I'm serious. I didn't think I'd ever say this. But once you've sailed on a cruise ship, you'll want to do it again. Among the passengers, there were real passionate about the subject. They knew everything.
They had been on so many cruises, they had been to so many destinations, with so many different shipping lines, that they could compare with enormous luxury of detail which ones were more suitable or less suitable depending on your needs. They were true experts in the field.
In other words, if you need advice, ask your cruise friends, if you have them, or get into social networks and look for information from people who like this world. You can find very useful opinions of selfless people who help you make smart decisions. It gives confidence.
It is possible to cook well for 2,000 people at a time
Frankly, I had very low expectations for food, even on the most highly rated cruises. And it's logical, after all, when have you had a good culinary experience in a meal that is served to an enormous number of diners? Well, I have to say that our ship's kitchen must have been a very well organized one.
Because it was good. I wasn't disappointed. I would especially highlight the tuna tartar cut and magnificently plated; a salad of watermelon, tomato and feta cheese; mini pieces of cheesecake dipped in a chocolate fondue; gnocchi with the 4 cheeses; a snail starter; and a chicken that was scrumptious.
And I don't want to forget the wine list, which came to us along with a sommelier who made – if we were interested – his suggestions for pairing the dishes. A luxury.
What's your mood? Well, you have an activity designed for that moment
Would you like to spend some time in the pool? Then choose from several. Do you need some time for yourself? You have a balcony, spas, gym or you can take a walk on the deck. Looking for entertainment? Go enjoy a comedy show, or listen to some truly talented singers and dancers, or the casino, the wine bar, or else have a Martini or just relax at the jazz club.
And as if that wasn't enough, our boat hosted a party for the children that lasted about 3 hours when we were in the middle of the sea. There were DJs on the pool terrace, team competitions in the pool, jewelry samples and a club to leave the little ones.
The cruise ship employees work very hard
The catalogue provided by the shipping company assured us that the employees came from more than 40 different countries, and that was very easy to verify on the labels where they bore their name. What I discovered, after meeting many of them, was that most of them had been working on many other cruise ships for years before.
It was also noticeable that they were very familiar, that they loved children, and that somehow it was their way of showing how much they missed their children, family and loved ones. I could see it in their eyes when they interacted with my children.
We had one person who took care of us every night. He was from Indonesia. Very helpful. Charming. I had two small children. Then there was another Macedonian caregiver who had two teenage children. The person in charge of the warehouse had been working for six seasons and already wanted to bring his family to the boat at the end of that trip.
Anthony and Asep, our waiters, kept every detail of our room up to date, with great care, they were great professionals. The service on the boat really made the experience exceptional and we are sure we will repeat it in the future.